If you can read this note, then you're using a browser that doesn't support modern web standards, or doesn't support them very well. The contents of the site should be readable, if not very pretty. To fix this, I highly recommend the free Firefox browser.
Thawte WOT
NOTE: The free WOT program was ended on 2009-11-16 by Thawte. Therefore, I am no longer verifying identities.
Instructions for getting your identity verified by me:
I speak english ... und deutsch. ;-)
Forms
To assert you, we must meet in person. What you must do before we meet:
Bring the filled-out Thawte Identity Verification Form (load/download: German or English). One copy for me and one for my wife.

Fill-in the form at your PC using Acrobat Reader (not by hand), and then print it.
Make sure the e-mail address and the Thawte ID are the same as the e-mail address on your Personal E-mail Certificate.
Do not sign and date the form yet!

Bring a color or grayscale (not black&white) copy of the photo page of your ID document (Personalausweis or Passport) for me to keep. Your info and photo must be clearly recognizable.
Bring your original ID document (Personalausweis or Passport).
Bring yourself (The verification must be in person).
In order for me to be able to verify you online at Thawte.com, you must first go to the Thawte Notary Map, find my (and my wife's) name (Earth / Germany / Hessen / Frankfurt am Main / Peter Lairo) and click on "Allow Peter Lairo to view your details". This is best done before the meeting (so I can verify your identity right after the meeting).
Note that I reserve the right to refuse to assert your identity for any reason.
This is what you need to bring (example):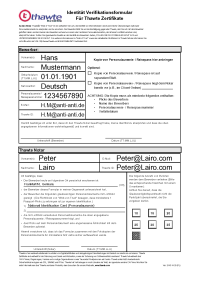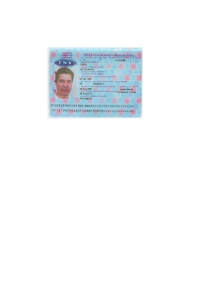 Scheduling
The best time to meet is on weekdays around 19:00 (depending on my work schedule), or on weekends after coordination. We have to be finished by 19:30 because my daughters have to go to bed, and it has to be quiet in the house.
Just send me an e-mail with a suggested date. I'm sure we'll quickly agree on a good day and time to meet. :-)
Contact Info
The best place to meet is at my house:
Peter Lairo
60437 Frankfurt am Main (Bonames)
Mobile: +49 (172) 979 7117
e-mail: